Services
We have a genuine passion for restoring old villas and bungalows and feel privileged to have worked on many magnificent old beauties in order to restore them to their original glory.

When renovating villas we aim to refresh the look and feel of the entire home without changing the traditional characteristics. We renew where needed using sympathetic timbers to maintain the integrity of the original home. We have carried out a range of family home renovation projects in the Waikato, as well as in Auckland, and are proud to have won several prestigious awards acknowledging our work. View our gallery to see examples of the projects we've undertaken and please feel welcome to call us to discuss how we can refurbish and rejuvenate your home. Or, alternatively you can book a consultation online.
Our aim is to provide you with an exquisite kitchen which meets both your budget and lifestyle.
All our kitchens are custom-built meaning we produce a unique kitchen specific to your home rather than using pre-made or kit-set kitchen components. We proudly manufacture in-house and install and fit all componentry. Our team of highly qualified, skilled craftsmen take pride in their work and thoroughly enjoy each project. You are even invited to visit our site and view your kitchen being built.
So, to discuss style and design options and find out what we can do for you, call us today or book a consultation online.
Whether it's a bathroom, bedroom addition or a complete house extension, we have the expert home renovation builders to make it happen.
We can arrange, manage and move separate buildings so that they seamlessly morph into your existing home, guaranteeing a perfect match. To achieve this, we match the era and blend the joinery so that the new addition appears as if it was always part of the original building. Please contact us for a free consultation. We give advice on Council Building Consent requirements, height to boundary restrictions, resource consents, structural issues, Council Compliance requirements and other advice on what can be built.
Mark May Villas & Restoration proudly manufactures in-house high quality timber joinery for various elements of projects we undertake.

Our range includes custom wooden doors, windows, stairs and cabinetry. We use a range of timbers which all meet Code of Compliance. The most common preference of our clients is for Western Red Cedar or Macrocarpa. Our team works with traditional woodworking machines that have stood the test of time, and all mouldings and joinery are in line with New Zealand joinery standards.

In addition, the architectural hardware joinery fittings we use are sourced from reputable suppliers.
House removals can be an overwhelming task, so we offer consultation and management for moving existing homes, and will provide a preliminary estimate for removal and renovation.
We aim to make renovations look seamless and streamlined. We blend styles and materials to ensure the final outcome is a home that looks original and well cared for.
We will work with you to deliver staircases and balustrades that best suit the style and era of your home.

For staircases we can use native timber, carpeting, open stringers and closed stringers; while balustrade options include turned and lathed native timber, wrought iron and glass.
Mark May Villas and Renovation is an authorised installer of the Thermawood Double Glazing System.

Thermawood Retro-fit creates a unique dry double glazing system for existing timber windows and doors in your home. The system is designed to fit any wooden joinery and can be used in a range of configurations. Thermawood Retro-fit Double Glazing remains substantially warmer than single glazing and allows you to maintain the original character of your home while adding value to your property and saving money on energy costs.
How Double Glazing Works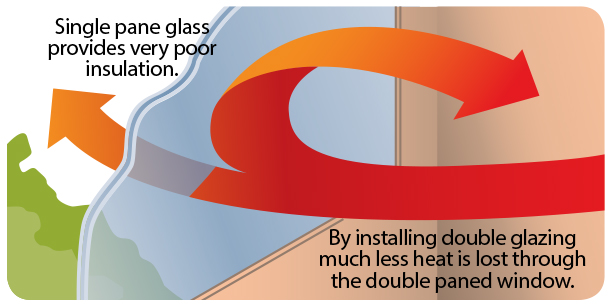 A single pane of glass provides poor insulation because glass is a good conductor of heat. As a result, much of the heat in your room literally goes out the window. By installing double glazing you will have a layer of air trapped between two panes of glass, and because air is a poor conductor of heat, much less heat is lost through the window. Furthermore, if the inside of one glass sheet has a Low E coating, even less heat is lost because the coating reflects heat back into the room.

For more information please click here.